This post contains affiliate link(s). An affiliate link means I may earn advertising or referral fees if you make a purchase through my link.
Back before August, 2019, www.GiantsWithin.com didn't exist. And I'm not sure that it would've been in existence at all without Wealthy Affiliate.
Why is that?
The short version is that I didn't find anywhere else that offers the training, resources, support, and services that Wealthy Affiliate does — all in one place.
For the more detailed version, keep reading.
If you're looking to make money online for real, then you have to at least consider giving Wealthy Affiliate a try. Which you can do for free. You don't have to pay anything up front. Try it out and make the most of the opportunity, especially in your first week.
I didn't have to provide any payment information until I signed up for premium membership.
Here's my Wealthy Affiliate membership review. Find out now if premium membership is for you…
Purchases Made Online Are Increasing
More people throughout the world gain Internet access each year. As more and more people come online, you have the opportunity to recommend products and services to them as an affiliate, or you can sell directly to them yourself.
An affiliate is simply someone who reviews and recommends products and services to others. If there are any sales made from their reviews and recommendations, then they get paid referral fees or commissions.
In the role of an affiliate, you're not selling your own products and services. You're helping to sell other people's products and services. That means you don't have to provide any customer service or order fulfillment. You don't have to keep any inventory. You simply have to promote useful, valuable, ethical, beneficial products and services to your audience.
There are affiliates with a large enough audience who make millions of dollars a year. And there are other affiliates who make considerably less than that. The opportunity is there, and the opportunity is real. You could have a full time income from affiliate marketing alone.
Someone is making money online. It might as well be you.
Where You Can Find the Training and Resources You Need
The problem is there are many, many scams online. Here's how you can recognize at least some of them:
They sound too good to be true in the sense that they promise lots and lots of money with little or no effort required on your part.
Make no mistake. To make money online, you do have to put in the work. And Wealthy Affiliate does acknowledge that.
I already had some idea of what to expect because of some previous online business experience. For example, just because you have some people show up to your webinar — where you're selling your own product — doesn't mean you'll make any sales.
I've put in the work before. It clearly wasn't enough.
And I didn't have what I have now. I have Wealthy Affiliate, and that makes all the difference.

Here's why.
Before I heard about Wealthy Affiliate, I had to get all kinds of products and services separately to run my own website. Things like buying the domain name, hosting, website security, website backups, training, support, a community, research tools, and live weekly classes.
It can be quite overwhelming, confusing, and expensive to get all of those things, but Wealthy Affiliate includes all of that and so much more.
Wealthy Affiliate: A One Stop Shop for Affiliate Marketing
I've had domain names and websites before, but it wasn't until I became a Wealthy Affiliate premium member that I took a website this far. The reason for that is simple. I've now got the direction, the support, the training, the community, the resources, and the tools that I've needed all along.
Previously, I didn't know what to do, and I didn't have what I needed to do it.
I'll start with the example of buying domain names.
Like you need a plot of physical land to build a physical building on, you need a domain name to build a website on. A domain name is digital real estate.
Many years ago, the very first time that I bought a domain name, I didn't know what I needed. So I ended up buying all kinds of extras. And spending way too much.
The next time I bought a domain name, I only got the bare minimum. Which wasn't enough.
These and other mistakes could have been avoided if I had only talked to someone. Instead of trying to figure it all out on my own. Those mistakes cost me a lot of money. But most of all, they cost me many years of time.
Unlike with other places where you can buy domain names, with Wealthy Affiliate, it's the same price for every year that you buy a domain name for. If you buy a doman name for 1 year or if you buy a domain name for 10 years, it's still the same price for each year. I haven't seen that anywhere else.
Plus, you don't have to buy anything else that you need separately since Wealthy Affiliate includes them in your premium membership. That takes away the guess work of what you need to get, and it takes away the extra cost as well.
Another example is the community at Wealthy Affiliate.

I have a personal coach that I can reach out to any time for the help that I need. Besides my coach, there are also tens of thousands of other members I can reach out to as well. This can be through live chat, private messaging, blog posts on Wealthy Affiliate, and comments.
The response has been very fast whenever I've asked questions. The sheer amount of support that is available is also something that I haven't seen anywhere else.
You don't have to fumble your way through building your online business. You can ask for help. The answers are available for you. You can also search through Wealthy Affiliate, too. You might find that your question has already been answered.
And you get to give. I've had the opportunity to answer some questions that other members have had. I've shared about my own experiences thus far. I've contributed to the community.
As a result, my ranking has risen quite substantially already. My rank is currently at 22910, which is at least 4000 higher than when I started 4 months ago. The more you contribute to the community at Wealthy Affiliate, the higher you rank. It's inspiring and motivational to keep on giving.
What else does Wealthy Affiliate provide to help you on your journey of building an online business?
You Get Updated and Ever-Expanding Training
As a Wealthy Affiliate member, you also have access to weekly live webinars, which are recorded and archived, a keyword research tool to help you determine what content to have on your website, a peer feedback system to help your improve your website, a system for helping you get comments on your website, and so much training, both written and video.
The core training is the Online Entrepreneur Certification, which includes 5 levels with 10 lessons each for a total of 50 lessons. These lessons are designed to be gone through more than once. And each lesson has tasks for you to do.
As I write this post, I'm in lesson 10 of level 4. After I publish this post on my website and share it on social media, I'll move on to lesson 1 of level 5. This is my first time going through the 5 levels.
And I can see how much progress I've made already. Before I went through any of the lessons, I didn't have a website. Now I've got a website with 23 posts and 3 pages. I can only imagine how much further along I'll be after I've gone through the 50 lessons 2 or 3 times.

Then there's all the other training available on Wealthy Affiliate, too. This isn't a place where only 1 or 2 people create training. No, this is a place where any member can create training for others to benefit from.
The trainers include Kyle, the co-creator of Wealthy Affiliate, and Nathaniell, my personal coach, and MagiStudios (Jay), who creates the weekly webinars. They and many other members create training on how and what to do for building a successful, sustainable online business.
I've gone through some of that training, too. It's very practical, and it's clear about what actions I need to take after reading or watching.
I've had a great time with building my online business. And now you can experience your own progress, too.
Try Out Wealthy Affiliate for Free Today
I started out as a free member with Wealthy Affiliate. And then I saw so much value that I had to switch to being a premium member.
I'm not asking that you go directly to being a premium member. That could be too much of a leap. Instead, my recommendation is that you join for free, and make the most of the opportunity — especially in your first week.
Go through level 1 of the Online Entrepreneur Certification training. Get building your website. Explore what is available to you for free. See what Wealthy Affiliate has to offer for you.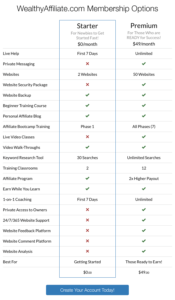 If you're at all interested in making money online, then at least consider giving Wealthy Affiliate a try. You won't have to provide any payment information until you switch to premium membership.
I was skeptical at first. I thought that Wealthy Affiliate would be like so many other programs or products or services that I had heard about over the years. I didn't think it would be any different.
I'm glad I was wrong.
I first heard about affiliate marketing many, many years ago. I studied it. I went through various trainings. Ultimately, nothing really happened.
Then I got started with Wealthy Affiliate. And I'm finally taking action. I finally know what to do, and I finally have what I need to do it.
I'm proud of what I've accomplished so far.
There's room for you, too. There's room for you to surprise yourself, and there's room for you to grow. Build a business online. Join Wealthy Affiliate now. For free.
Give yourself the chance to succeed like you never have before.
Thank you for reading. Here is what else you can do:
Add any questions or comments you have in the comments section below;
Subscribe so you can be notified by e-mail when I add another post on this website; and
Share this post, including on social media.
Until next time,
James Barnett
Please follow and like us: