This post contains affiliate link(s). An affiliate link means I may earn advertising or referral fees if you purchase through my link.
Each person has their own answer for what happiness is about.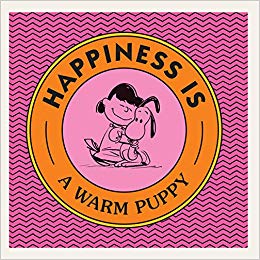 A book I first read when I was a boy makes me happy whenever I read it. It's "Happiness Is a Warm Puppy" by Charles M. Schulz. It's a Peanuts book with a series of "Happiness is …" statements accompanied by Schulz's illustrations of Charlie Brown, Snoopy, Linus, Lucy, Sally, Schroeder, and other Peanuts characters.
In "Happiness Is a Warm Puppy," Schulz shows that happiness is available wherever you seek it. Happiness is everywhere. I will quote some of the "Happiness is …" statements from the book in the following sections as I present my book review of "Happiness Is a Warm Puppy" and see what happiness is about…
"Happiness Is an Umbrella and a New Raincoat."
Happiness doesn't have to be complex. It can be very simple.
Perhaps you get happy when it rains, and you can use an umbrella and a new raincoat. You might be pleased about being prepared – even if you never were a boy scout. Or you might simply enjoy walking in the rain without getting wet.
"Happiness is an umbrella and a new raincoat" is a simple statement, but it and other statements in the book offer multiple angles for exploring why you're happy.
You can find happiness in the simple things. Especially in the simple things. Schulz did well to remind us of that.
"Happiness Is a Pile of Leaves."
In "Happiness Is a Warm Puppy," Schulz reminds the reader of the pleasures that we were a lot more aware of as children. The book is a master class in gratitude. It's a short book that will take you less time to read than it will take to read this review, but it packs so much into its pages. I experience happiness every time I read it. I'm grateful for the book, and it is an excellent tool that can help you take a deep dive into gratitude.
The more grateful you are, the happier you are. I've realized this from reading "Happiness Is a Warm Puppy" and looking at the pictures that emphasize the various happiness statements.
As a boy, I used to jump into piles of leaves. I saw it as a reward for raking the leaves. I got to lie in the piles of leaves before putting the leaves into big bags.
I was more aware back then of life's simple pleasures. Thankfully, I've been regaining some of that awareness. I am truly blessed.
"Happiness Is Sleeping in Your Own Bed."
Schulz kept making such accurate statements throughout the book. Try it for yourself. Fill in the blank: "Happiness is ____________________________."
What did you put there?
Bet you can't stop at one happiness statement. Once you get started, it's natural to keep going.
I agree that "Happiness is sleeping in your own bed." I have experienced that countless times. It's a feeling unique to that situation. I've had many beds, a wide variety, and I still have that feeling. It's wonderful. It's a feeling of being at home that I've looked forward to and been pleased to discover all over again. Year after year. Decade after decade.
How about you? Have you been identifying with any of these happiness statements so far?
"Happiness Is Getting Together with Your Friends."
In the picture with this happiness statement, Snoopy is on top of his doghouse with four friends. And the smile that he has! It's so heartwarming that I smile, too, on the inside and the outside.
Think of when you've spent time with your friends. Maybe you've had moments where you appreciate what you have together and smile as you're grateful for your connections with your friends.
Those are magical moments. Treasure them. You are wealthy. Wealth is more than your finances. It's more than your health. It's your relationships, too.
Happiness is knowing that you have each other's backs. Happiness is sharing laughter and supporting each other. Happiness is being aware of the riches you already have.
"Happiness Is Everything."
"I just want to be happy." You've probably heard someone say that before. You've probably said it, too.
Much has been said about happiness. And much has been written about it. What is happiness about? Is it a feeling? A state of mind? Is it expressed in these happiness statements in "Happiness Is a Warm Puppy"?
Yes, to all those questions. Happiness is all those things and so much more. It is also something to be shared. And sharing helps it multiply exponentially.
"Happiness is everything" is the final statement in the book. So final that it's on the back cover. Schulz sums up the book and all of life with that final statement.
Conclusion
"Happiness Is a Warm Puppy" is a worthy addition to your personal library. It's a book of wisdom disguised as a children's book. Don't let the fact that you can probably read it in 5 minutes or less fool you. It may be short, but it's got much substance.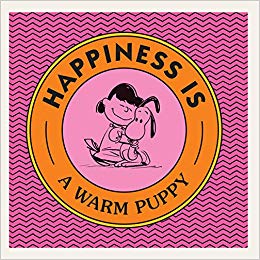 I had the physical book when I was a boy. Now I've got the Kindle edition, so I can have it wherever I go. The book serves as a reminder that happiness can be found anywhere if you're prepared to see it.
Click here to buy "Happiness Is a Warm Puppy" and take a deep dive into gratitude. Happiness is all around you.
What are some of your favorite "Happiness is …" statements from the book? And what are some of your favorite "Happiness is …" statements that you've come up with on your own?
I'd like to hear from you. Spread happiness.
Thank you for reading. Here is what else you can do:
Add any questions or comments you have in the comments section below;
Subscribe so you can be notified by e-mail when I add another post on this website; and
Share this post, including on social media.
Until next time,
James Barnett
Please follow and like us: